"MIKE HAD OVER AND FRAMED"
Photo: Richard Graham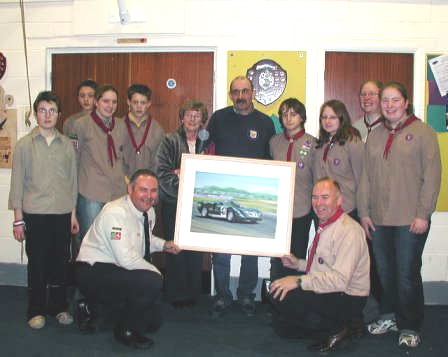 Friday evening 17th March was for Scouts and Explorer Scouts. Just like any other Friday at Brabourne & Smeeth Scout & Guide, near Ashford, Kent. Mike Edworthy, who has been variously Scout Leader, Explorer Scout Leader and latterly Assistant Explorer Scout Leader over a 12 year period, popped along for just half an hour, or so he thought!
He and his wife Mo are moving on Wednesday 22nd March to Witney, Oxfordshire. The move has been akin to the proverbial intermittent engine problem - stop, start, stop, cough, moan....! Now it was really go!
Mike was keen to meet a group of friends that evening and get away. Delaying tactics were employed. Explorers kept him embroiled for a while with a quiz. Next as he tried to leave, the Scouts pulled him into judging an indoor patrol tent pitching competition. Before he knew where he was the troop evening closed with the usual lowering of the Union Flag and a closing prayer.
Suddenly Mike, joined by Mo accompanied a throng of friends, members of the management committee and District Explorer Scout Commissioner Nick O'Callaghan.
Scout Group representative Ian Ruck spoke in appreciation of all the work Mike and Mo had carried out for the young people locally. Both had been involved with several exchange visit Scouts in Logan, UTAH, USA, besides so many other activities too numerous to mention.
Mike's other love is of course his classic Austin Healey cars. Mike is the proud owner of a circa 1960 "Frogeye" Sprite, which he has lovingly restored. Furthermore, 2006 will be the 9th occasion of driving down to the famous racing circuit at Le Mans in France. It was therefore entirely appropriate to present Mike with a limited edition framed print (No: 50) of the Healey-CliMax SR being tested at Silverstone in the spring of 1968 and which raced at Le Mans in 1968. Mike had no idea this gift was in the offing ! He was really "Had Over and Framed!" by the moment. Current Explorer Scout Leader Sarah Cooper presented Mo Edworthy with a large bouquet of flowers, bound in a velvet ribbon of the group colour, burgundy red.
The gathering enjoyed refreshments and a great time of reflective conversation. After all Mike didn't meet his friends until 10-30 p.m. over an hour late - but who cared - not Mike!
We will miss these community minded folk.
Thank you Mike & Mo. Good luck for the future.
Ian Ruck
1st Brabourne & Smeeth
Scout Group Representative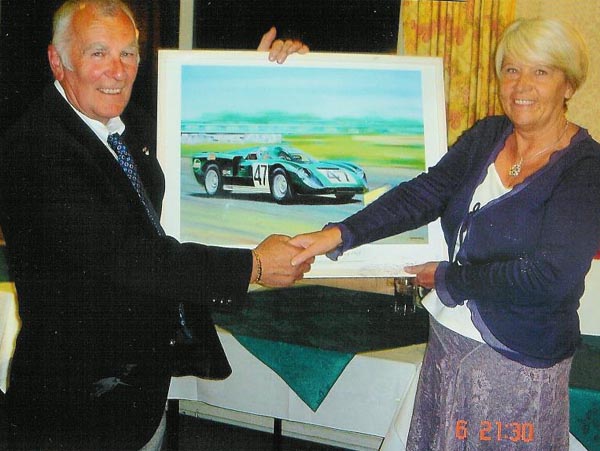 HEALEY DRIVER'S CLUB ANNUAL INTERNATIONAL WEEKEND 5/6/7/TH MAY 2006
Seen here at the above event is Dianne Selley collecting her "Cornish Auction Prize" from Clive Baker, the only driver to have raced the Healey SR at le Mans in 1968 and 1969.
The Healey Driver's Club hold this auction every year to raise money for local charities, and this year they collected a record amount, the first charity to benefit from this years' event is Shelter Box.
Both Dianne and her husband Chris—unbeknown to each other had placed nearly all their raffle tickets in the Beer Mug in front of the Ltd Edition Print (No: 52) so everyone was delighted they won it—to go with their lovely Austin Healey 100/M
A great weekend was had by all those attending, with record numbers and record funds for the charities.
See The Healey Driver's Club Website