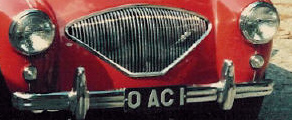 You will find relevant photos linked to this article - follow hyper links
The history of OAC 1 is fairly well known, the car was built on the Longbridge production line between September and December of 1953 - reason is the registration OAC 1 (Warwickshire Plate) was issued during that time and it is believed the car was finished as a coupe' in November 1953.
It came off the production line along with another 100/4 which in turn was the 1st Coupe, and is known as ONX 113. Both cars were sent to the Jensen Motor Co. to have the Coupe' bodies fitted, returned to DHM Co. to be fitted with the remaining modifications. This car (ONX 113) was Donald Healey's personal car and was later updated to full 100/S specification, and was lodged at Arthur Carters' famous collection for over 30 years.
As a Coupe' with 4 cyl. engine OAC 1, the car was highly modified by the DH Motor Co. in 1955. It was fitted with early Jaguar disc brakes all round and a servo, and was fitted with a Morris 6 cyl. engine - a year before Austin brought out their 2.6 6 cyl. power unit for the Westminster and 100/6. It was used extensively for development work by the DHM Co until 1962 when it was sold to a close friend of Donalds' a Mr Phillip Fotheringham -Parker, who it is rumoured was the DHM Co - Co. Secretary, however, I have a letter from Mrs Fotheringham - Parker who has remarried - to advise that this was not the case - and that her husband was in fact, a very competent race and GP driver, and was a very close friend to Donald.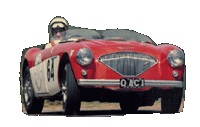 OAC 1 lost its way, somewhere in the early 70's, and by 1975 was owned by Alan Cook in the Midlands. He was responsible for having the Coupe' panels removed off by Everards (Leamington / Warwick) who John Everard (Son) confirms they did the work.
It was then sold to Lendrum and Hartnum Motors in London, who sold it to a dealer, who contacted me ( Spring / Summer 1981 ) and I traded in my MGC GT and became the owner of OAC 1. On delivery day it was checked over at Orchard Engineering and although it passed scrutiny and money was paid and the deal done - promptly burned out the main harness - and we had to drive home with a length of electrical wire running from the fuel pump to the battery !!
On greater detailed inspection the engine bay was a mess, the engine was running on only 4 cylinders, so a 3 month strip and rebuild was started at Orchard Engineering.
On lifting the cyl. head a one and half inch split pin was found to have been squashed into the head gasket between 5 / 6 cylinder, hence the loss of power. There were headers, tanks and pipes all over the place to rectify overheating. Three months later a major engine rebuild, the block inserted in early 1982 - when a call from Phillip Young (Sporting Cars Editor) was stranded in Frankfurt with SJB 471 the Unipart car, with a broken crankshaft. The car had to go to India like that with my borrowed new engine in a crate right alongside. On arrival the engine transplanted - 50 miles to run it in and a change of Havoline oil, and then a grueling Himalayan Rally - 8 days in, the car was leading all the modern machinery when Phillip negotiated a two foot ravine in the mountain roads at 60 mph!! Chassis broke - Indian Army called out to weld suspension turret back on - petrol pipes caught fire and the rest is history (car failed to finish). Three weeks later car back engine out stripped rebuilt and into mine by April 82 and first of the seasons auto tests at West Malling.
I got a call from Donald Healey via the club that he needed a "works" car to enter the RAC Lombard Golden 50 Rally (It actually ended up with 60 entrants) when 50 were the limit, and 50 years since the first RAC Rally in 1932.
Another rush job to prepare the car, when DMH decided not to compete, I was asked to join Don Morley ex - works Rally driver to join him on the event.
Great 5 days, OAC 1 kept up with the best, despite constant air cleaning of fuel pipes (petrol tank was full of rust kept blocking twin fuel pumps and carbs. ) We came third in class and won the "Outright Team Winners". The AHC team lined up outside Ragley Hall, at the finish.

In 1983 I drove TON 792 Ex David Seigle Morris rally 3000 with Kevin Law and we came 1st in class beating John Chatham in GRX (Retired) and also 56 FAC ex works Sebring car.
In 1984 I entered the Coronation Rally again - this time in OAC 1 with Mike Ridley - we did OK but no trophies.
In 1985 I ran IHW at Brands Hatch with a committee of 14, and that was some event,(1100 participants and 306 Healeys, Austin Healeys and Jensen Healeys). A few copies of the original programme are still available, and also copies of the Video ( now DVD) with the interview with Donald Healey / works drivers / works mechanics / 40 Healey car parade. a great item - some more are to be commissioned.!!
1986 I entered the RAC / Norwich Union Rally and again we entered a team. John Chatham in GRX, Nick Howell in 67 ARX and me in OAC 1.
John won the autotest, I came 4th and Nick came 11th, again we won the Team Prize and were awarded a cup at that years IHW weekend at Stafford - the only time the cup has been awarded.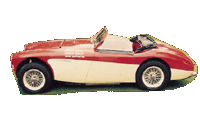 OAC 1 was given an easy year in 1987 entering half a dozen sprints and auto tests including Prescott Hill Climb where she dumped me, but no damage!!
1988 saw the first Pirelli Marathon and OAC 1 had its power unit "borrowed" to fit into a Wolseley 6/110 and a great time we had with that, 42nd out of 120 entries.
Sadly this was the year we lost Donald Mitchell Healey and a memorial race was held in his honour at Silverstone, ( 17th September 1988 ) and OAC 1 found herself coming in 3rd in the road going class, but not before John Chatham had lapped us after 6 of the 10 lap race !! in DD 300.
In October of 1988 OAC 1 was sold to Sid Segal, and in the meantime I had traced the Coupe' panels (Australia) and had them shipped over after 2 years of haggling; and these were sold with the car and Sid did get the work carried out by Rod Jolly the great panel beater. Later, after the premature loss of Sid Segal, OAC 1 was bought by Mike Darcey, who had the full restoration carried out, and the car is now doing very well in FIA International Historic Rallies. It is a sight to behold at Goodwood retro meetings and the like. Now, over 50 years after being built, the car unlike its' sister car (ONX 113) has worked hard, played hard, and done the marque and the name of Healey proud.